Features and Benefits
Today's public blockchains like Ethereum are ideal solutions for cryptocurrency and Decentralized Finance (DeFi),which both benefit from a distributed, opaque network. However, enterprises using the Baseline Protocol, have vastly different requirements for public ledgers, which are fulfilled by Baseledger:
---
LOW, PREDICTABLE COSTS
Fixed transaction costs, magnitudes lower than current public blockchains
GUARANTEED HIGH PERFORMANCE
High performance due to architecture and consensus mechanism
DATA COMPLIANCE
Compliant with all areas of Data Protection Regulations like GDPR
BUILT-IN INTEGRATION
Existing Off-Chain systems like ERP systems can be connected automatically
MULTI-CHAIN COORDINATION
Processes using multiple chains like Ethereum or Bitcoin can be synced
---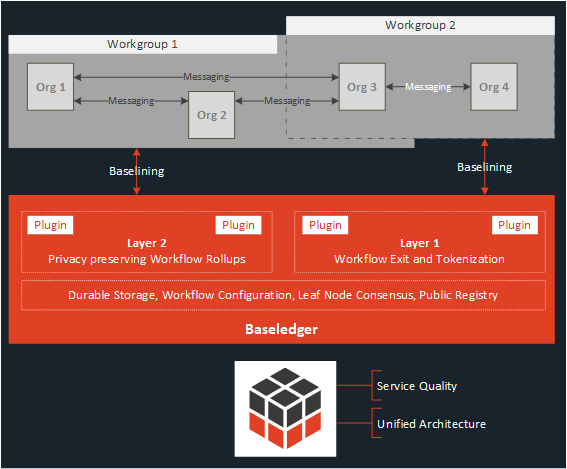 The standard setup involves Baseledger itself as the ledger to support Baselined processes. Additionally, Baseledger is always the underlying Ledger for coordinating multi-chain setups, e.g. those combining Baseledger with Ethereum for DeFi.
Unibright offers one of the first productive solutions (shown in projects with clients like CONA and Fraunhofer IPK) to baseline business processes and IoT scenarios, and automatically connecting to off-chain systems like SAP ERP or Microsoft Dynamics.
Next-Gen Enterprise Ledger
Bitcoin and Ethereum gave birth to the idea of decentralized ecosystems with Proof-of-Work based blockchains for cryptocurrency safety and core programmability, but fall short on performance, costs, compliance and enterprise usability.

Baseledger constitutes a public, council-governed blockchain using a Proof-Of-Stake consensus mechanism that enables low, fixed costs, guaranteed high performance, data privacy compliance, multi-chain-coordination and off-chain integration by design.
| | Bitcoin | Ethereum | Baseledger |
| --- | --- | --- | --- |
| Usage | Decentralized Cryptocurrency | Cryptocurrencies and Programmability | Enterprise Ledger for Baselining |
| Costs | > 4 USD per TA | > 4 USD per TA | 0.01 USD per TA |
| Performance | 4–5 TA/s | 15 TA/s | > 10,000 TA/s |
| Data compliance (GDPR) | | | |
| Integration (ERP, legacy) | | | |
| Support for FIAT | | | |
| Multi-Chain Coordination | | | |
| Cryptocurrency | | | |
Team
Baseledger has been launched by Unibright and others as an open-source initiative, aiming to build a tokenized ecosystem and open community around Baseledger.
Unibright and partners bundle years of experience in (enterprise) blockchain development, product building and customer satisfaction. Baseledger contributes to the Baseline Protocl initiative, which was launched together with ConsenSys, Microsoft and EY.
Token model (UBT)
The UBT token is used by enterprises to access blockchain-business integration products and services. As an enterprise-oriented blockchain, Baseledger is the prime utility and use-case for the token. UBT is the work token for Baseledger, which is staked by workers to reserve the right to do work on the network (node operation and development). The Token Model is extending the UBT model where:
The token acts as a payment mechanism
The token acts as a staking mechanism for workers maintaining consensus
The token acts as a "share-in-the-block reward" mechanism for workers that are doing the work relative to their stake
A proxy-staking mechanism is in place, where members of the ecosystem can contribute to a worker's stake (and partially participate in the rewards) without doing the work themselves
Organizations (users) do not need to handle the token themselves and can pay in fiat money